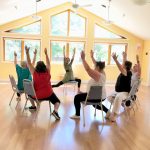 Starting after Labor Day, Grace Cottage will offer a variety of wellness classes for a range of fitness levels and personal preferences. Class choices are yoga, tai chi, and Strong Bones. Class fees are subsidized by the healthcare center so that more people in the community can afford to attend. They range in price from free to $5/class.
On Tuesdays from 4:30 – 6:00, Grace Cottage offers yoga in the Viniyoga tradition. In this class, participants build strength, balance, and endurance as they move through basic postures (asanas) in fluid motion with coordinated breath work. Gentle music and centering meditation are incorporated in this class. Students of all ability levels are welcome. No pre-registration is required. Mats and blocks provided. Instructor: Crystal Mansfield, Grace Cottage's Director of Rehabilitation Services and Wellness Programs. Crystal studied yoga at the Kripalu Institute and has been teaching yoga for more than twenty years. $5/class.
Fridays from 3:30 – 4:30, enjoy yoga in the Hatha tradition. This class takes participants through a series of standard yoga poses with coordinated breathing exercises for the benefit of mind, body and spirit. Mats and blocks provided. Registered yoga teacher Rebecca Griswold is a physical therapy assistant at Grace Cottage. $5/class.
Wednesdays from 1:00 – 2:00, there is a 'Chair Yoga' class. Beginners to yoga are welcome, as is anyone with limited flexibility or an inability to practice on the floor. Students will flow through an eclectic blend of seated and standing poses while incorporating breathing techniques into their movements. In this class, you will open your hips, move your shoulders and neck, and find length in your spine. A goal is to experience peaceful relaxation as well as gentle invigoration. Led by Rebecca Griswold, PTA, RYT-200. $5/class.
Starting September 20, there will be a new Tai Chi for Fall Prevention 6-week class series offered on Fridays from 9:00-10:00. Classes focus on developing balance and flexibility. Certified Instructor Ruth Fleming is a physical therapist at Grace Cottage. A Level 2 class is offered on an on-going basis on Wednesdays from 9:00-10:00. These classes are free.
Strong Bones classes are offered at Grace Cottage throughout the year. These are popular strength and balance classes for older adults. Participants generally go two times a week on a regular basis. Call for class times. Suggested donation: $3/class.
All classes are held in the beautiful and serene Grace Cottage Community Wellness Center, Heins Building, 133 Grafton Road (Route 35,) Townshend.
Note that classes may be cancelled due to bad weather, holidays or occasional scheduling conflicts. Prior to your first attendance, call 365-3649.