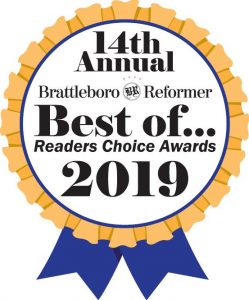 On July 27th, 2019, The Brattleboro Reformer published the winners of their 14th annual Best of Windham County Readers Choice Awards contest. Grace Cottage Family Health & Hospital received top honors in five categories: Best Hospital, Best Emergency Care, Best Physical Therapy (third year), Best Pediatrician (Dr. Elizabeth Linder), and Best Place to Work (third year in a row).
"We are all very proud to be viewed so favorably not just in the West River Valley but throughout Windham County and beyond," said Grace Cottage CEO Doug DiVello.
Located in Townshend, Grace Cottage Family Health & Hospital includes a 19-bed Critical Access Hospital (with 24/7 emergency care, inpatient acute care, skilled rehabilitation, lab, and diagnostic imaging); an outpatient rehabilitation department (with physical and occupational therapy); a Rural Health Clinic providing primary care and mental health services; a retail pharmacy; and a Community Wellness Center (offering a wide range of healthy living classes and support groups). More at www.gracecottage.org.