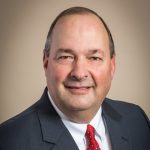 Just two weeks after celebrating his first anniversary as President and CEO of Grace Cottage Family Health & Hospital, Douglas F. DiVello was recognized by the American Hospital Association (AHA) as the Vermont recipient of the 2019 Grassroots Champions Award.
Every year, one health system leader from each state is honored for his or her work over the previous year to effectively deliver the hospital message to elected officials; help broaden the base of community support for hospitals; and advocate tirelessly on behalf of patients, hospitals and communities.
The Vermont Association of Hospitals and Health Systems (VAHHS) worked with the AHA in making the selection. "Hospitals have an important story to tell legislators and Doug's work is a terrific example of supporting advocacy efforts that ensure the long-term viability of our hospitals and health systems," offered VAHHS President Jeff Tieman.
DiVello came to Grace Cottage in February of 2018 with 37 years of healthcare experience. He states what drew him to Grace Cottage as the mission, the people, the culture, and the community. "Grace Cottage is a model of how healthcare should be delivered in communities such as ours. I am happy to share what is working for our organization, and more importantly for our patients, with anyone who is interested in a conversation."
"Doug was quick to grasp Grace Cottage's unique strengths and understands the challenges that rural healthcare centers face," offered Grace Cottage Board of Trustees President Kevin Meyer. "He truly values open dialogue with staff, board and community members, legislators and reporters and is an articulate communicator. He has proven to be an effective, respected leader for this institution. We congratulate him on this well-deserved honor."