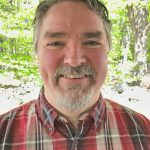 Family Nurse Practitioner David McCormack has joined the staff of Grace Cottage Family Health and is accepting new primary care patients. Formerly a nursing supervisor at Brattleboro Memorial Hospital and then a provider at Brattleboro Family Medicine, David lives in Newfane with his family.
A native of Brockton, MA, McCormack earned his Associates Degree from Vermont Technical College and began his nursing career as a Licensed Practical Nurse on the Medical/Surgical Unit at Brattleboro Memorial Hospital in 2001. He then went on to earn a BSN in Professional Nursing from the University of Vermont and a Master of Science in Nursing at the Massachusetts College of Pharmacy and Health Sciences, with a Family Nurse Practitioner focus. He holds certifications in emergency nursing, advanced trauma nursing, and emergency pediatric nursing.
David is currently a 'Refuse to Use' representative for Leland and Gray/West River Valley Thrives. In his free time, he enjoys kayaking, hiking, camping, gardening, and spending time with his family.
To schedule an appointment with David McCormack, call 802-365-4331.