Our Food Services Department provides patients and staff with delicious and nutritious meals. Lunch includes a full array of salads and sandwiches, plus hot entrees and side dishes, homemade soup, drinks, and fruit or dessert. Patients often comment on how much they appreciate these wonderful meals.
Grace Cottage is proud to support our local farmers, and chooses local food sources as much as possible. Our local partners include Dutton Farms, Firebelly Farms, Harlow Farm, Old Athens Farm, Walker Farm, and Westminster Organics, to name a few. Our beef and chicken are antibiotic- and hormone-free, and our milk is rBGH-free.
Grace Cottage is committed to supporting a healthy food system, and is expanding our use of local, nutritious, sustainable foods. Grace Cottage is a member of the Windham Farm and Food Network, and has signed the Healthy Food in Healthcare pledge.
If you have any questions about the cafeteria or Food Services, please contact Grace Cottage's Food Services Director Denise Choleva at 365-3607.
---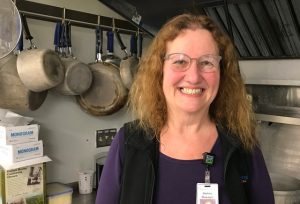 Denise Choleva
Director, Food Services Department