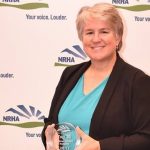 Grace Cottage Hospital recently received national recognition as a "Top 20 Critical Access Hospital (CAH) for Best Practice – Patient Satisfaction."
Chief Nursing Officer Lisa Eaton represented Grace Cottage at the awards ceremony Sept. 28 during the National Rural Health Association's (NRHA) CAH Conference in Kansas City, Mo.
Grace Cottage was chosen for this exclusive "Top 20" list out of all 1,339 CAH facilities throughout the U.S. It is the only CAH in the Northeast to receive this designation.
The Top 20 Critical Access Hospitals "Best Practice—Patient Satisfaction" winners, including Grace Cottage, scored best among CAHs on iVantage Health Analytics' Hospital Strength Index™. These Top 20 CAHs have achieved top percentile rank on independently collected patient surveys which measure "Overall Rating" and "Highly Recommend."
"This is an extraordinary achievement," said Grace Cottage CEO Roger Allbee. "This does not happen without good teamwork, the commitment of all staff in their interactions with patients and their families. I am extremely proud of the Grace Cottage Hospital staff. We will continue to provide our community with the services they need in a compassionate and friendly way."
Serving the healthcare needs of patients in and around Windham County since 1949, Grace Cottage Family Health and Hospital provides 24/7/365 emergency care; inpatient care; physical, occupational, and speech rehabilitation; primary care and mental health services; a retail pharmacy; and ancillary services. It is located on Route 35 (Grafton Road) near the intersection of Route 30, in the center of Townshend. Its Community Wellness Center offers a variety of wellness classes and support groups. For more information, visit www.gracecottage.org.
The NRHA is a nonprofit organization working to improve the health and wellbeing of rural Americans and providing leadership on rural health issues through advocacy, communications, education and research. For more information, visit www.ruralhealthweb.org.
iVantage Health Analytics, Inc.™ is a privately held healthcare business intelligence and technology company, and a leading provider of information products for the healthcare industry. For more information, visit www.ivantagehealth.com.