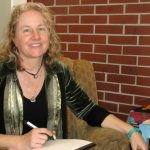 Grace Cottage Family Health welcomes Mental Health Counselor Eileen Arama to its team of 12 medical providers. Arama is a Licensed Independent Clinical Social Worker, offering counseling appointments for adults as well as children ages seven and up.
Trained at the Gallaudet University School of Social Work in Washington, D.C., Arama received her Masters of Social Work degree with Honors in May 2003. She has worked locally at Brattleboro's Austine School for the Deaf, at Sunderland Elementary School, and at the Brattleboro Retreat, in addition to other positions in Vermont, Connecticut, and Israel.
Grace Cottage's other full-time mental health medical provider is Benjamin Wright, a board-certified Psychiatric Mental Health Nurse Practitioner. In addition to providing therapy, Wright manages prescriptions for patients with mental health conditions.
"Too often people with the need for counseling or psychiatric care go without because they cannot find a provider," says Elaine Swift, Practice Director for Grace Cottage Family Health. "With the addition of Eileen, we are pleased to welcome new patients to our behavioral health practice."
To make an appointment with Arama or Wright, call 802-365-7381. Most insurances accepted.