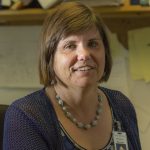 By Elaine Swift, Grace Cottage Family Health Practice Director
as originally appeared in the Brattleboro Reformer's Graceful Health series May 5, 2017
Sometimes the language used by government agencies obscures the goal. The term "Patient-Centered Medical Home" is like that. People ask me all the time, "What does it mean, and why is it important?" I'd like to explain some of the ways that being a Patient-Centered Medical Home (PCMH) helps Grace Cottage provide the best care for our patients.
First, it's helpful to know that, while all of the various services offered at Grace Cottage are important, the PCMH designation applies specifically to primary care practices. It is Grace Cottage Family Health, the part of Grace Cottage where patients go for their regular checkups and other primary care needs, that has received the PCMH designation. In fact, Grace Cottage Family Health was recently awarded Level 3 PCMH recognition, the highest level possible.
What does that mean for our patients? The National Committee for Quality Assurance (NCQA) has established five crucial elements that are required in order for a medical practice to become a PCMH. These are:
Patient-Centered Care
Comprehensive Care
Coordinated Care
Accessible Services
Quality and Safety
I'll explain each of these one by one.
"Patient-centered care" means just what it says. At Grace Cottage, the main focus is always the patient. Countless testimonials have been received to prove that we are fulfilling our vision to be the standard for patient care, and Grace Cottage was recently ranked in the Top 20 in the nation for Patient Satisfaction among the 1,339 Critical Access Hospitals.
Beyond that, in the primary care setting, patient-centered also means partnering with patients and their families, making sure patients are fully informed about their care plans, and supporting patients' choices about how to approach, manage, and organize their own care.
The easiest way to explain "comprehensive care" is to say that it is a team approach. PCMHs must offer a range of services, including medical and mental health care, prevention and wellness services, acute care, and chronic care. All of these are available at Grace Cottage.
Grace Cottage Family Health uses a team approach and offers a variety of services. Its family medicine, pediatric, geriatric, and mental health providers work together with each other and with the Grace Cottage Community Health Team, a group of professionals offering diabetes education; nutrition, exercise and stress-management coaching; crisis counseling; and care coordination (phone calls and visits with patients to make sure they have the medicines and equipment they need and that they understand their medical providers' instructions). In addition, a resource advocate links patients to social services and support from other agencies.
"Coordinated care" means that PCMHs work to coordinate a patient's care, whether it is provided at the PCMH or elsewhere. One way we do that is by helping with referrals and appointments with specialists. Another is by coordinating care among providers at Grace Cottage.
"Accessibility" is another key element for PCMHs. Grace Cottage patients benefit greatly by being able to access a wide range of services at one location.
To increase the accessibility of services, the Grace Cottage Family Health offers same-day appointments when available, for medical needs that are urgent but do not require an emergency department visit. The clinic is open for appointments Monday through Friday, 7:00 a.m. to 5:00 p.m., and until 6:00 p.m. on Tuesdays. When acute care is needed, Grace Cottage Hospital also has an always-open Emergency Department.
Another way that Grace Cottage offers increased access is through the Patient Portal. A patient who has signed up for an account through the Patient Portal can access his or her medical records anywhere there is internet access, so the records can easily be shared during a visit with a provider elsewhere. Grace Cottage's Patient Portal also allows around-the-clock electronic messaging. Patients can email questions to their providers and be assured of a quick response. (This is not for medical emergencies; for those situations, you should still call 9-1-1.)
"Quality and safety" of patient care have always been of paramount importance at Grace Cottage. This is also required with the PCMH model. Quality initiatives and outreach are important aspects of the PCMH model, and we take these efforts very seriously.
All of this work leads to better coordination of care and better patient experiences and outcomes, while reducing medical care costs. Being a Level 3 PCMH proves we are not only doing the right thing, but doing it very well. We are always accepting new patients into our practice. Call 802-365-4331.
Bio: Elaine Swift, CHC, CPHRM, RHIT, is a Certified Healthcare Compliance Officer, a Certified Professional in Health Risk Management, and a Registered Health Information Technician. She joined the Grace Cottage staff 23 years ago and has served as Health Information and Billing Coordinator, Compliance Manager, and Director of Quality, Compliance, Risk Management, and Credentialing before becoming the Grace Cottage Family Health Practice Director in 2015.