March 8, 2021
Grace Cottage is now administering COVID-19 vaccinations to people who live, work, or receive primary care in Vermont.
Currently, all Vermonters who are age 65+ are eligible for appointments.
Vaccine clinics will be held at Grace Cottage, by appointment made here, on these scheduled dates:
Tues., Wed., & Thurs., March 9, 10 & 11
Tues. & Thurs, March 16 & 18
Tues. & Wed., March 23 & 24
Tues., Thurs., & Fri., March 30, April 1 & 2
Tues., Wed., & Thurs., April 6, 7, & 8
Wed., April 14
Future vaccination dates will be posted as soon as they are scheduled.
You can create an account for vaccination even if your age band is currently ineligible. That way, you'll be ready to schedule your appointment as soon as your group is called. Create your account here.
---
For answers to frequently asked questions, click here.
To learn about scheduling a COVID-19 test, click here.
Don't delay your care! Click here to learn how we're keeping you safe during appointments.
---
COVID-19 Vaccination
Last updated 3/2/21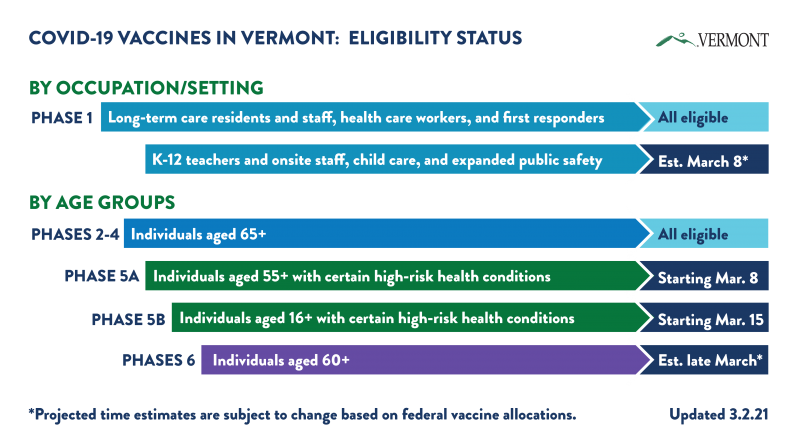 This diagram gives an overview of the stages of state's vaccination plan.
How will the vaccine be distributed?
In Vermont, the COVID-19 vaccine is being distributed in phases as determined by the VT Dept. of Health and VT Governor Phil Scott. Vermont is using age groupings and high risk conditions to determine who can receive the vaccine next, with the primary goal – to save lives. See chart above for details.
Vaccines are being administered at several hospitals, including Grace Cottage, plus state-sponsored clinics and pharmacies.
People age 65+ who live out of state but are patients of a practicing Vermont primary care provider may schedule a vaccine in Vermont.
Remember: Appointments are required for vaccination. Appointments must be made through the VT State Dept. of Health statewide registration center. Grace Cottage is not able to schedule vaccination appointments. Make an appointment here.
If possible, use the online registration system, enlisting the help of a trusted friend or family member if needed. If that is impossible, call 855-722-7878. Due to an expected large call volume, this method may take longer.
Starting Monday, March 8, those who are age 55+ and who have certain high-risk health conditions may make an appointment for vaccination. The following medical conditions increase the risk for severe illness from COVID-19, according to the CDC:
Active current cancer
Chronic kidney disease
COPD (also called emphysema) and chronic bronchitis
Heart disease, including heart attack, heart failure, congestive heart failure, coronary artery disease (angina, acute and chronic ischemic heart disease), cardiomyopathies, and pulmonary hypertension. Does NOT include high blood pressure.
Immunocompromised (weakened immune system), due to solid organ transplant, blood, or bone marrow transplant, immune deficiencies, or other causes; or HIV with a low CD4 cell count or not on HIV treatment; prolonged use of corticosteroids or other immune suppressing drugs.
Severe obesity (BMI of 40 or above)
Type 1 and Type 2 diabetes
Pregnancy
Disabilities including chromosomal disorders, such as Down syndrome; intellectual disabilities (IQ of 70 or below); disabilities that compromise lung function (neurologic and muscular conditions such as muscular dystrophy, spina bifida, and multiple sclerosis).
Sickle cell disease
For more information about vaccines and high risk conditions, click here.
We ask for your patience at this time. We are monitoring this situation closely and will continue to do so. Please don't contact Grace Cottage about receiving the vaccine; there is no waiting list.
Please continue to check this website, our Facebook page, and the Vermont Department of Health website for the latest information.
When it's your turn, you will register through the Vermont Department of Health link provided above.
Other useful links: