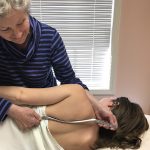 By Margaret van den Bergh, PT
Graston Technique. It's a strange-sounding name for a new physical therapy method that can help patients heal faster from soft tissue injuries like sprains, fibromyalgia, tennis elbow, golfer's elbow, back pain, carpal tunnel syndrome, tendonitis, shin splints, trigger finger, and plantar fasciitis, to name a few.
Backed by over 20 years of research, clinical studies, and successful clinical application. GT therapy is part of the curriculum for 43 advanced degree programs in physical therapy, chiropractics, and athletic training. It is used regularly by over 250 professional and amateur sports teams and by U.S. Olympic training centers. There are over 16,000 certified physical therapists, chiropractors, and athlete trainers worldwide.
Now three Grace Cottage Family Health & Hospital's physical therapy staff members are also certified to offer this treatment: Rebecca Griswold, PTA; Melissa Walker, DPT; and me.
Read More...