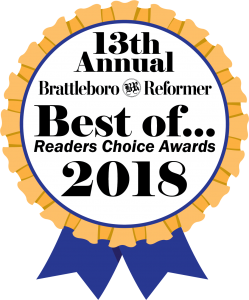 "Best Place to Work," "Best Physical Therapy," and "Best Doctor" were the three categories for which Grace Cottage Family Health & Hospital took home top honors in the 2018 Brattleboro Reformer Readers Choice Awards. All winners were recognized in the July 21st edition of the Windham County publication.
This is the second consecutive year that Grace Cottage received the "Best Place to Work" and "Best Physical Therapy" awards. The "Best Doctor" award this year was shared in a three-way tie between Grace Cottage primary care physician Dr. Maurice Geurts, and Dr. Denise Paasche and Dr. Tom Evans of Brattleboro. Dr. Geurts has been in practice at Grace Cottage since 2003.
Director of Rehabilitation Services Crystal Mansfield said the physical therapy award was well-deserved by her staff and that if there was an award for occupational therapy, she's confident her team would have won that, too.
Grace Cottage CEO Doug DiVello attributes the "Best Place to Work" award to a number of factors – the most important of which is the existence of a collegial environment where all staff are valued and respected.
Grace Cottage Family Health & Hospital is located in Townshend, VT. In May, the healthcare facility was recognized for a second consecutive year as a Top 20 Critical Access Hospital for Patient Satisfaction by the National Rural Health Association.