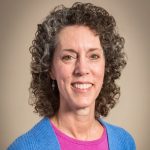 By Siobhan Eddy Young, Grace Cottage Physical Therapist
Women, here are some topics you probably don't want to talk about: urinary incontinence, pelvic pain, pelvic organ prolapse.
As frustrating or embarrassing as these conditions may be, please know that there is hope.
Grace Cottage's Outpatient Rehabilitation Center now offers Pelvic Floor Rehabilitation therapy, which can help those dealing with the conditions listed above, as well as helping with sexual dysfunction, orthopedic and sports injuries affecting the pelvic region, and pelvic issues due to pregnancy, childbirth, or postpartum complications.
Both men and women have a pelvic floor. In women, the pelvic floor refers to the muscles, ligaments, connective tissues and nerves that support the bladder, uterus, vagina and rectum. The pelvic floor helps these organs function, and problems can occur when the pelvic floor is weakened or injured. Pelvic floor disorders are more common in women than in men, and more common as women age. Almost one-quarter of women have these disorders, according to a study funded by the National Institutes of Health.
Some women experience pelvic organ prolapse—when the pelvic muscles can no longer adequately support the pelvic organs, so that these organs press down onto other organs, causing pain. Pelvic pain can also be caused by vulvodynia, interstitial cystitis, painful bladder syndrome, and other conditions. Pelvic floor treatment can help to alleviate this pain.
Pelvic Floor Rehabilitation therapy can also help with several kinds of incontinence. The two most common types of urinary incontinence are stress incontinence and urge incontinence.
Stress incontinence refers to the leakage of urine when there is increased pressure on the bladder during exercise, sneezing, coughing, laughing, or other activities requiring exertion. Stress incontinence is often due to "underactive" pelvic floor muscles.
Urge incontinence is the result of an overactive bladder muscle and may be experienced as a strong urge to urinate with difficulty getting to the bathroom in time. This can be caused by many different conditions such as diabetes, medications, caffeine or alcohol, urinary tract infections, neurological disorders, incomplete bladder emptying, and myofascial pelvic pain syndrome. While many of the conditions are best treated by your medical provider, some of these can by improved with pelvic floor therapy. Since mobility impairments may also affect continence, conventional physical therapy may be helpful as well.
A Pelvic Health Physical Therapist can determine the type of incontinence you are experiencing and work with you to create an action plan to address the problem. Physical therapy and therapeutic exercise have proven effective in treating both types of incontinence.
A Pelvic Floor Rehabilitation treatment session begins with private and supportive conversation. First, we talk about the issue – its symptoms, how long it has been going on, and the emotional stress that goes with it. Then the therapist does a physical examination to assess the situation and determine the best treatment approach.
Pelvic Floor Rehabilitation therapy treats the whole person. Treatment options can include therapeutic exercise, movement awareness, biofeedback, ultrasound, manual therapy, and education about self-care and behavior modification. The treatment approach is individualized to each patient's particular needs. Generally, the therapy lasts six sessions. It is covered by most insurances, with referral from a medical provider.
If you are encountering an issue of pain or dysfunction in the pelvic region, or incontinence, don't lose hope. Please reach out for help by calling Grace Cottage's Outpatient Rehabilitation Center at 802-365-3637.
Siobhan Eddy Young, PT, joined the Grace Cottage Rehabilitation Department staff in 1998. She holds a Bachelor of Science degree in Physical Therapy and a Masters in Health Sciences degree from the Medical University of South Carolina, and is specially trained to treat pelvic floor dysfunction by the Academy of Pelvic Health Physical Therapy section of the American Physical Therapy Association.