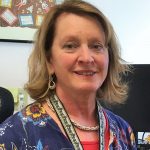 By Deborah Brown, Grace Cottage Family Health Diabetes Educator
as originally appeared in the Brattleboro Reformer's Graceful Health column, March 24, 2017
Do you have diabetes? If you said no, how do you know?
As many as 8 million Americans have this disease without knowing it. And even without obvious symptoms, undiagnosed diabetes can still be ruining your health.
Diabetes is the 7th leading cause of death in the U.S. Heart disease and stroke are two-to-four times more common in those with diabetes. It is the leading cause of new cases of blindness in adults, and of end-stage kidney disease. More than half of the amputations of feet and legs are due to diabetes; 60-70 percent of those with diabetes have some nerve damage; and diabetes contributes to serious infections and gum disease.
Diabetes is caused by the body's inability to produce or use insulin—the hormone that helps move glucose inside the cells to provide energy.
There are two types of diabetes. With Type 1 diabetes (sometimes called juvenile diabetes or insulin-dependent diabetes), the body's immune system malfunctions, preventing the pancreas from producing insulin. People with Type 1 diabetes must take insulin in order to live.
For those with Type 2 diabetes, the pancreas produces the normal amount of insulin at first, but the cells that need energy don't respond correctly, so the glucose can't move, and blood glucose levels remain too high. The pancreas then works harder and harder to compensate, and eventually it can no longer keep up. When that happens, Type 2 diabetics also must take insulin.
There is a better way. With early diagnosis, Type 2 diabetes is often discovered in time for it to be managed with diet, exercise, and careful monitoring of blood sugar. Classic early symptoms include increased thirst and more frequent urination. This is evidence that the kidneys are working harder than ever to pull glucose out of the blood. These symptoms are common, but the best way to determine if you have diabetes is through a blood test, which can detect both diabetes and its precursor, prediabetes.
If you have prediabetes, that means your blood sugar levels are higher than normal, but not yet dangerous. It's an important sign of where you are heading, while you still have time to shift the course.
Even before you get a blood test, there is another test you can take to see if you are predisposed to get this disease. It is called the "CDC Prediabetes Screening Test," and it is available at the Centers for Disease Control's National Diabetes Prevention Program website. Type the name of the test into your search bar, and you will find it easily.
You will be asked seven simple questions: 1) Are you a woman who has had a baby weighing more than 9 pounds at birth? 2) Do you have a sister or brother with diabetes? 3) Do you have a parent with diabetes? 4) Find your height on the accompanying chart. Do you weigh as much as, or more than, the weight listed for your height? 5) Are you younger than 65 years of age and get little or no exercise in a typical day? 6) Are you between 45 and 64 years of age? 7) Are you 65 years of age or older? After answering these questions, the site will calculate your risk of getting diabetes. This test is just a starting point; discuss the results with your medical provider.
I hope that my explanation of what could happen with undiagnosed and uncontrolled diabetes will inspire you to do everything you can to prevent this disease, and to treat it properly if you already have it. I am happy to answer any other questions you might have about diabetes. You can call me at 365-3715, ext. 4, or email me at dbrown@gracecottage.org.
Bio:Deborah Brown earned her LPN degree at the Thompson School of Nursing and her RN degree at Vermont Technical College. She has worked as a nurse at Grace Cottage and at Brattleboro Memorial Hospital. She joined the Grace Cottage Community Health Team this year, first as RN Outreach Coordinator and later became one of the team's Diabetes Educators.