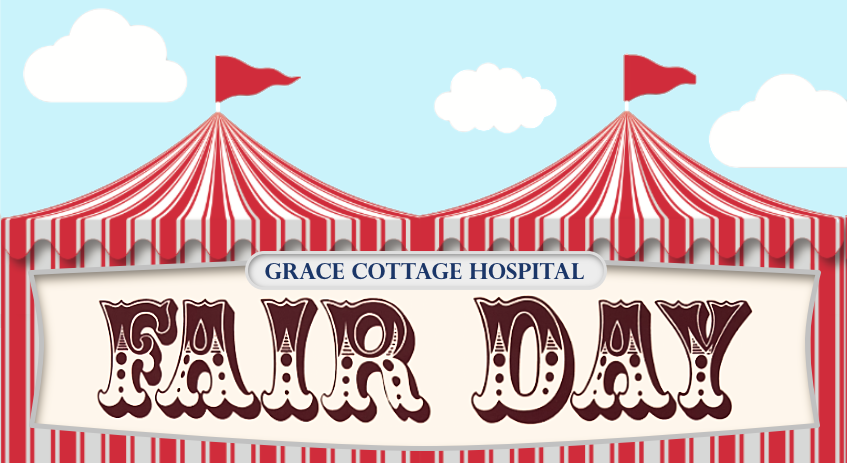 ---
Hospital Fair Day – August 6, 2022
The 72nd annual Grace Cottage Hospital Fair Day will be on the Townshend Common again, on the first Saturday of August, "God willin' & the crick don't rise!"
Star your calendar in RED for August 6. Big tents, food, music, bagpipers, plus all the other wonderful attractions will light up all our spirits. We have been so sad to not have had a full Hospital Fair Day for the last two years because of the pandemic, but this year it will be back in all its glory. In some of the booths you will see the warm, wonderful volunteers we have enjoyed for years, while other booths will have new faces. Booths will include the Jewelry Booth, the Pie and Baked Goods Booth, the White Elephant Booth, the Food Booth and many more.
The success of Hospital Fair Day depends on the donation of items. Please call us if you have any of the following to share:
Books: Fiction or nonfiction in good condition; hardcover or paperback. No textbooks or encyclopedias, please.
Cars/Trucks/Motorcycles, Boats: These always bring a lot of interest and money for the hospital.
Furniture: large and small, in good condition for the Auction. Chairs, tables, bookcases, armoires, desks, bedframes, etc. No mattresses or upholstered furniture
White Elephant Items: Dishes, bric-a-brac, decorative items, kitchen goods, glassware, Christmas decorations
Jewelry: Fine or costume. Necklaces, rings, watches, bracelets; also hats, purses, scarves, wallets
Toys and Sporting Goods: in good condition
Plants: Annuals and perennials
We also have a new-to-us auctioneer this year, Brian Tebo, from Bennington. Now that longtime Hospital Fair Day auctioneer Kit Martin is living in Maine, he has wholeheartedly recommended Brian to replace him.
In addition, we are extremely pleased that Tim Robinson & Ralph Sherman are volunteering to bringing their wonderful music to entertain us from the Gazebo on the Common.
Speaking of volunteers, between now and August 6, there is a lot of stacking, sorting, and storing to be done, and some of this has already started. Any and all community volunteers are gratefully accepted, whether you can donate an hour or two or more. Perhaps you've been a patient here and you want to give some time in thanks for your great care. Maybe you're a visitor to the area, a second homeowner, or a year-round resident. The proceeds this year are going to the Emergency Department; we are so blessed to have such a terrific one!
We think we will enjoy and appreciate the Fair a little more–maybe even a lot more–this year. Seeing friends, buying treasures, and participating in all our favorite booths will be so awesome. And yes, the pony ride for children is coming again!
For more information, call 802-365-9109.
Here's a list of our Booth Chairs, who would all happily welcome volunteer helpers. If you're interested in volunteering, call Hospital Fair Day Chair Eileen Fahey at 802-365-4030 or email her at thequeeenoftownshend@gmail.com and she will put you in touch.
Auction: Andy Coyne & Dr. Robert Backus
Bingo – Deb Record
Birthday Parade – Patsy Bemis
Books – Ann Allbee
Corn/Watermelon – Diane Bousquet & Rehab Dept.
Costumes – Karren & Steven Meyer
Cotton Candy – Marcy Moody
Fish Pond – Sarah Wyman & Cub Scout Pack #448
Food Booth – Mike, Andy, & Kevin Seaton
Fried Dough – Dana West
Gourmet Food – Marilee Attley & Jean Bernegger
Hole-in-One – Sindy Hassig
Ice Cream – Carmen & Ash Jones
Jewelry – Elaine Swift & Krissy Barker
Lemonade – Sue Belgard-Marquis
Parking – Kirk Petty
Pictures, Frames, & Art – Natalie Donovan
Pies & Baked Goods – Jodi Perkins
Plants – Pat Howell
Popcorn & Balloons – Mike Attley
Raffle – You? (This position is vacant)
T-Shirts & Hats– Barb Barber
Toys – Brian Mayher & Donald Houle
Treasurer – Stephen Brown
White Elephant – Connie Holt, Helen Holt, Elenka Lott
Hospital Fair Day 2021 Recap
Over $51,000 was raised at Fair Day 2021, including $6,000 on the Townshend Common at the White Elephant, pie/baked goods, t-shirts/hats, and sandwich booths; more than $25,000 in the Online Auction; $1,500 from the White Elephant sale on Fair Day Chairperson Eileen Fahey's front porch in Townshend during the month of July; and over $18,000 in Fair Day donations, with contributions still arriving in the mail daily. Thanks to the generosity of many people and businesses who donated art, furniture, antiques, gift certificates, plants, quilts, and much, much more, the Online Auction featured 222 items, an all-time record.
Hospital Fair Day Traditions
A tradition began 72 years ago, and it has been vital to Grace Cottage's patient care ever since. The first Hospital Fair Day was held on Saturday, August 5, 1950, organized by the Grace Cottage Hospital Auxiliary, with a healthy mix of fun, fellowship, and fundraising. Thanks to the love, loyalty, and dedication of so many volunteers and fairgoers over the years, this event continues. Grace Cottage relies on the proceeds from this annual event, which now average $50,000 each year.
In the photo albums below, you can reminisce about past Hospital Fair Days and see some of the babies born here across the years.
Links below also take you to traditional Fair Day recipes and fun Fair-Day-themed coloring pages, a relaxing activity for both you or your child.
Thank you for continuing to support the Annual Grace Cottage Hospital Fair Day!
Grace Cottage Babies
If you were born at Grace Cottage, send us a current picture and tell us your birth year, and we'll add you to our virtual Birthday Baby Parade with our beloved Stork (don't tell anyone, but it's Dr. Timothy Shafer!)
Roll over the photo to see the name and year. Use right and left arrows to scroll through the photos.
No items were found matching your selection.
Hospital Fair Day Recipes
Coloring Fun
Get your crayons out — it's coloring time. Click on any of the special Hospital Fair Day coloring pages below, and print the page to color offline.

Reminiscing
We want to reminisce with you. We're posting videos and photos of past Fairs. If you have photos or videos from past Hospital Fair Days that you'd like to share, e-mail them to info@gracecottage.org, and we'll add them to the album.
Hospital Fair Day 2022 Sponsors


Norm Holden Painting
Annette Leigh
Phoenix Roofing