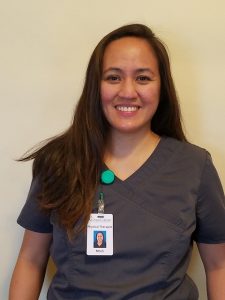 Degrees:
B.S., Physical Therapy, Colegio de Santa Isabel, Naga, Camarines Sur Province, Philippines
Masters, Business Administration, Ashford University, Chandler, AZ
Master, Healthcare Administration, Ashford University, Chandler, AZ
Certifications:
Licensed Physical Therapist in NY, IN, CT, MA, and VT
Professional:
Mitch Romero has practiced Physical Therapy throughout the U.S. for 17 years. Most of her career was spent as a "traveler," working for short periods of time at locations throughout the country. She has also been employed in business management in Indiana and Connecticut.
Romero began working at Grace Cottage as a traveler and has now transitioned to a member of the Grace Cottage staff. She is experienced in working with geriatric and medically complex patients and falls prevention programming.
Personal:
In her free time, Romero loves to travel with her daughter. who is currently in Kindergarten at Saint Michael School in Brattleboro. They enjoy visiting family across U.S.
"My one goal in life is to leave this world a better place for my child(ren) to grow in love with."