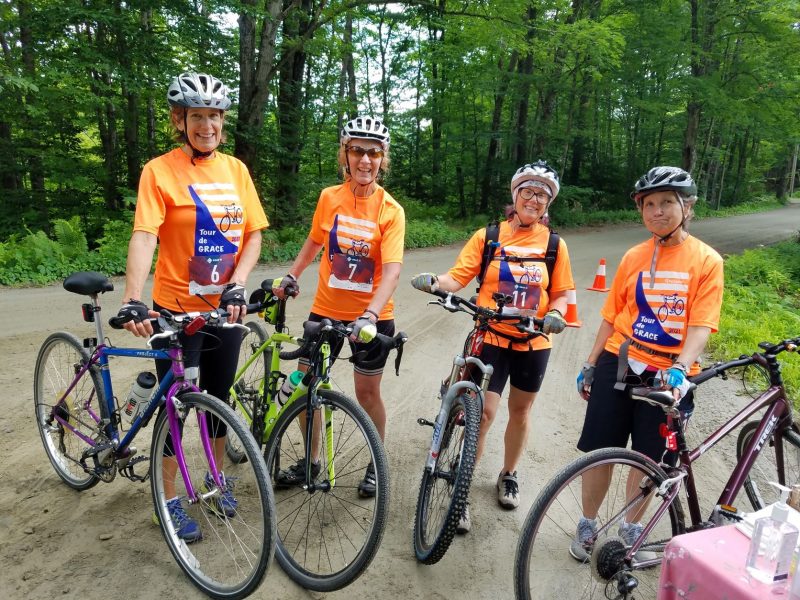 Saturday, June 25, 2022
The 17th Annual Tour de Grace will be held on Saturday, June 25, and we hope it will mark a return to our traditional scenic 19-mile ride from Stratton Mountain to Grace Cottage.
The $30 advance registration per rider ($40 after June 22) includes a Tour de Grace performance t-shirt (for the first 100 registrants), four wonderful rest stops along the way, refreshments, a bus ride back up the mountain (or park at Grace Cottage and reserve an early spot on a bus to the starting point), beautiful scenery, great camaraderie, and fabulous outdoor exercise (although it is mostly downhill!) on what we hope will be a beautiful summer day.
Riders start at Stratton anytime between 8-10 a.m. (it's not a race, but a rally), and the ride generally takes about 90 minutes or less. Route Description
It's a wonderful event for the entire family; riders ranged in age from 3 to 75 last year! Click here to register.
"Everything was so well organized and I learned about trails that I didn't even know existed!" said 2021 rider Annie Bessette. "It was perfect!"
Visit Grace Cottage's Facebook page to see the 2021 Tour de Grace photo album!