Saturday, June 29, 2019. 8:00 – 10:00 am flexible start time.
Stratton Mountain Resort to Grace Cottage Hospital.
What a perfect day! Thanks to all 123 riders who participated in this unique and wonderful event!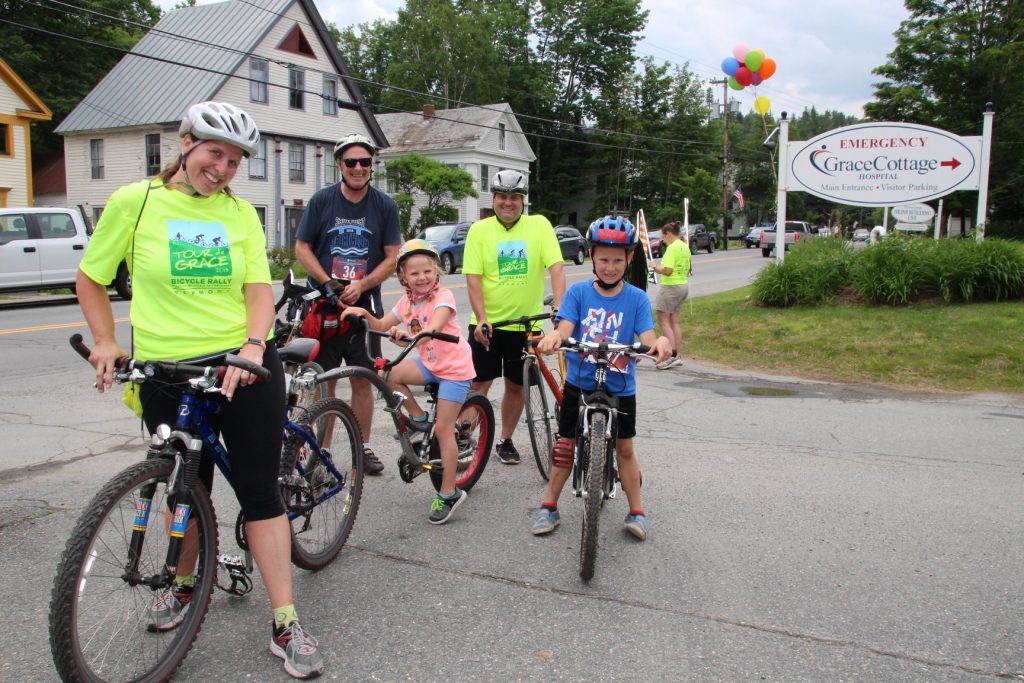 More photos of the day are up on our facebook album.
If you rode and have a few good photos to share, send to info@gracecottage.org.
THANK YOU TO OUR LOYAL AND GENEROUS SPONSORS:
Stratton Resort, Solstice at Stratton, D&K's Jamaica Grocery, Howard Printing, Equipe Sport, Three Mountain Inn, Von Bargen's Jewelry, Gravel Tours, Cota & Cota, C&S Wholesale Grocers, and Winot Works.
THANK YOU TO OUR WONDERFUL VOLUNTEERS:
It takes an army of volunteers to make Tour de Grace flow like clockwork, and we want to give a very grateful shout-out to all of you:
SIGNAGE
Kathy & Doug Ballantine
Dana West
REGISTRATION
Ellen & Sam Scialabba
Sue Belgard-Marquis
Eni Mosely
Jane Hewson
John & Sally Wadsworth
RESCUE, INC. SAFETY SWEEPERS
Jessica Bullock
Kyle Wolfe
JAMAICA REST STOP
C.J. King
Jean Danilow
Jen Dorta-Duque
COTA & COTA REST STOP
Tucker Wilkinson
TOWNSHEND DAM ROUTE CHANGE MONITORS
Nick Tolbert
Jayden Bloom
TOWNSHEND DAM REST STOP
Laura Smith & Reed Erven
HOSPITAL WELCOMING COMMITTEE
Jacki Brown
Gary & Carolyn Rast
Itara Jacobs
Cheryl Shaw
Claire Bemis
Jeremy Schrauf
The Shine Family
Pat Mack
Suzanne Welch
Kate Harris
PHOTOGRAPHY
Jacki Brown
TRUCK DRIVERS
Doug & Cathy DiVello
Tom and Andrew Tolbert
Dr. Ron and Jay Vallario
BIKE FACILITATORS
Matt Emerson
Riley Barton
Huge thanks to the Stratton Mountain Resort and its crackerjack Transportation crew for getting cyclists safely and conveniently up the mountain: Tom, Lee, Josef, Doug and Ryan.
And special thanks to Tanner Winot of Winot Works for lending his trailer for bicycle transport, to the Grace Cottage Facilities Department for setting up and taking down the food tent, and to the Dietary Department for helping with the food.
Save the date for next year! Saturday, June 27, 2020.
With questions, call 802-365-9109 or email info@gracecottage.org.