16th Annual Tour de Grace, June 26 — Loop Route Again, Loads of Fun!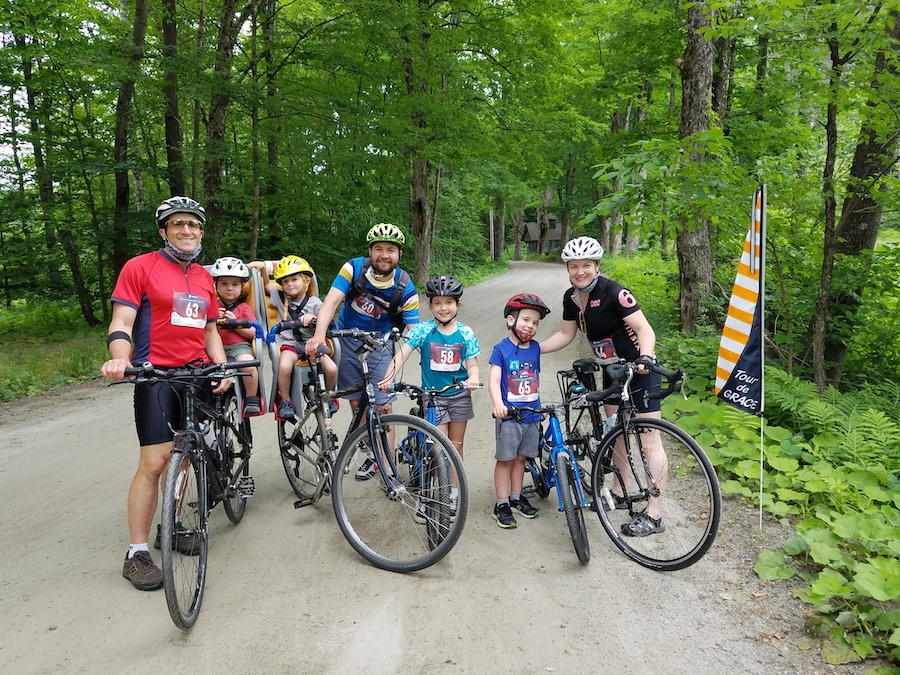 2021 Tour de Grace Will Be a Repeat Performance!
Come join the fun—sign up for Grace Cottage's 16th Annual Tour de Grace bike rally, to be held Saturday, June 26, rain or shine.
Start any time between 8-10 a.m., at Grace Cottage Family Health & Hospital, 185 Grafton Road, Townshend, VT.
The event follows the same loop as last year, approximately 17 miles on scenic back roads, along dirt trails, and through the historic Scott Covered Bridge (a different route from pre-pandemic years, so that no bussing is necessary). Return to Grace Cottage to celebrate your accomplishment!
Helmets are required; mountain bikes recommended. Rest stops with water and snacks are offered along the way and at the end.
This family-friendly ride is fun AND allows for social distancing! Round up your family or a few friends, enjoy the beautiful scenery, get some exercise, and support Grace Cottage Hospital. Proceeds from this event help Grace Cottage continue to provide essential healthcare services.
Can't make it to Townshend that day? You can do a VIRTUAL Tour de Grace on your own. Send us your photo, and we'll post it in our 2021 Tour de Grace photo album on Facebook!
Register at gracecottage.org. Pre-register: $30 per rider until June 24; $40 June 25-26; first 125 to register get a Tour de Grace performance t-shirt (t-shirt not included for virtual riders).
For more information, email info@gracecottage.org or call (802) 365-9109.
Route Description (there will be signage all along the route):
Go north on Route 30 from the hospital to West Townshend. Cross Route 30 in West Townshend at the Post Office; turn left onto Worden Road and follow the trail through the woods, coming out on Route 100 in East Jamaica. Turn left on Route 100, cross the green metal bridge, and turn right onto River Road. Ride along River Road until you come to the rest stop at the point where you turn around and come back. You will return pretty much along the route that you came up, except that you cross the Townshend Dam, go down State Forest Road, come through the Scott Covered Bridge, and back to Townshend.
Register here.
The 2020 Tour De Grace was a rousing success!
93 riders joined us for the socially-distanced, altered-route-for-safety 15th annual Tour de Grace, and everyone had a good time. Riders ranged from three to 75 years old, and thanks to participants, sponsors, and a group of virtual riders who rode 15 miles at a time and location of their choice, over $7,000 was raised for Grace Cottage Hospital.
Special thanks go to our many wonderful volunteers and Tour de Grace Sponsors: Cota & Cota, D&K Jamaica Grocery. Equipe Sport. Howard Printing, People's United Bank, Solstice at Stratton, Stratton Resort, and Three Mountain Inn.
Join us for this year's Tour de Grace on June 26, 2021!
From three of last year's riders:
"This ride is AWESOME!"
~ Young rider, age 8, from South Newfane, VT
"This year's Tour de Grace was a fantastic event! I liked the trails so much that the next day I went back with our daughter, Cara. I guess one bright side of the pandemic is that I have "discovered" so many fun things to do outside, right in my own backyard. Also, so many volunteers with great enthusiasm. We really had fun, and enjoyed the dill pickles at the finish line!"
~ Dr. Moss Linder, Townshend, VT
"I wanted to thank everyone involved with organizing the Tour de Grace bicycle rally. We had a great time riding, as always. You folks did a splendid job, especially in light of the current pandemic. The alternate route was fine; we were glad that you could, and did, conduct the ride at all when so many other events have been cancelled. We'll see you next year!"
~ Tad Downing, Bennington, VT
Visit Grace Cottage's Facebook page to see the 2020 Tour de Grace photo album!