Saturday, June 29, 2019. 8:00 – 10:00 am flexible start time.
Stratton Mountain Resort to Grace Cottage Hospital.
Rain or Shine!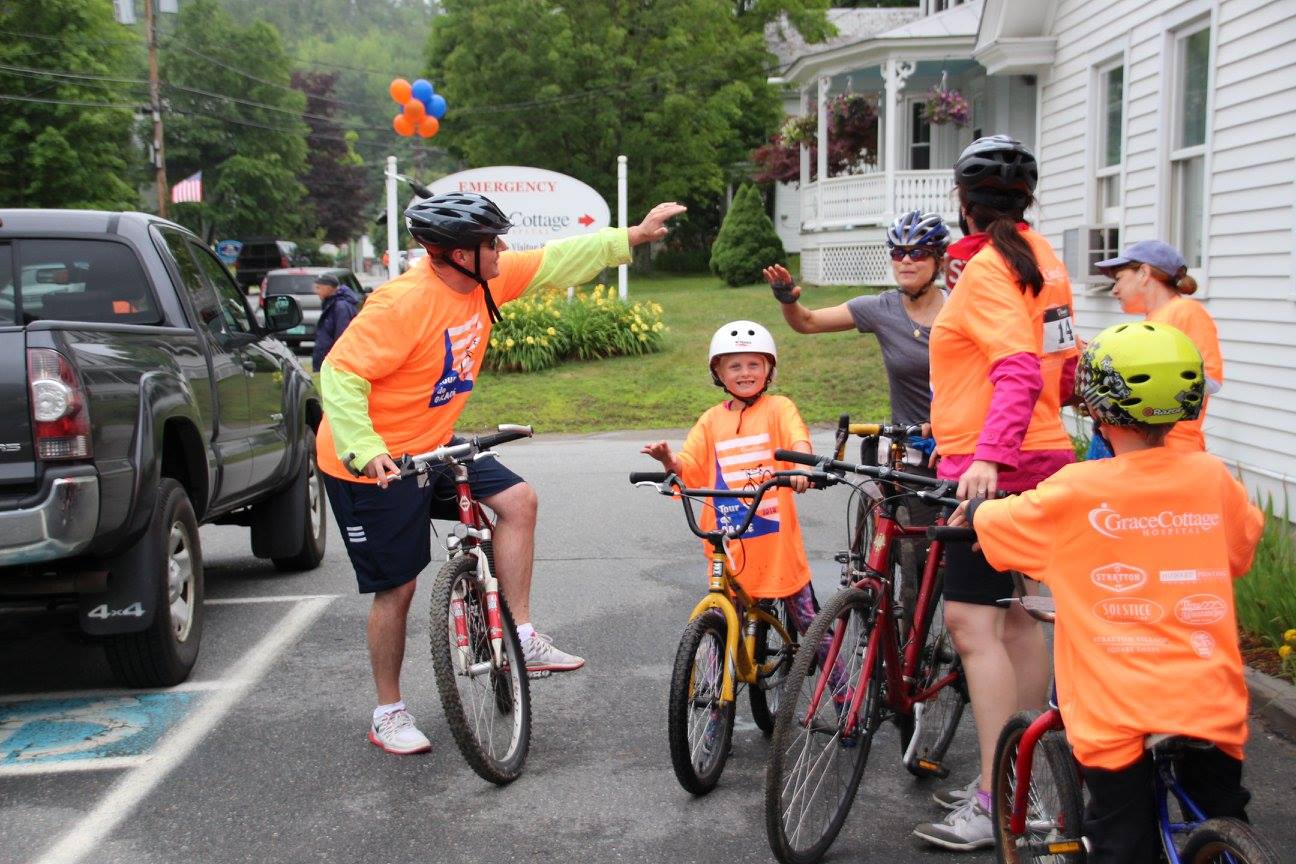 JOIN US for the 14th Annual Tour de Grace Bicycle Rally on Saturday, June 29, 2019.  It's a family-friendly ride over rivers, through the woods, across the Townshend Dam, and through the historic Scott Covered Bridge! The beautiful back roads course is 19 miles, mostly downhill, from Stratton Mountain Resort to Grace Cottage Hospital in Townshend.
The event is appropriate for anyone in decent shape who knows how to ride a bike! Sturdy tires are recommended and helmets are required. Bike rentals are available with advance reservation at event check-in through Gravel Tours (802-289-5119) or by picking up at Mountain Riders in South Londonderry (802-297-1745.)  A 2019 Tour de Grace Route Description is available here.
Healthy snacks and water are available at four rest stops along the way. Free performance t-shirts are available to the first 100 who register, so don't delay!
Don't miss this one-of-a-kind ride, and feel good knowing your registration fee benefits Grace Cottage Family Health & Hospital.
Registration Fees:
Now thru June 27th at noon: $25 all ages. Register online.
Event Day: $30 all ages. Register between 8:00 – 10:00 am at Stratton. (Cash, check or credit card.) *Event can sell-out due to limited bus space, pre-registration recommended.
Details: This event will be held rain or shine! Check-in is at the Stratton Mountain Base Lodge parking area, between 8:00 and 10:00 am (Look for balloons, just off the Stratton Mountain Access Road.)  Shuttle buses will return bikes and riders to Stratton from roughly 10:00 – 12:30 pm. Average ride time is about two hours.
Option: Riders can choose to start by arriving at Grace Cottage between 8:00-9:00 am, and shuttling up to Stratton. Your car will then be awaiting you when you arrive back at Grace Cottage. In order to take advantage of this option, you must call ahead and confirm availability: Mon-Fri, 8:30 – 5:00: 802-365-9109.
Thanks to the registrants, riders, event sponsors and a team of volunteers, in 2018 we raised more than $6,000 for our non-profit hospital.
For more information, call  (802) 365-9109 or e-mail info@gracecottage.org.
Photos of last year's event can be viewed on the Grace Cottage facebook page.
Note: Photographs and/or video will be taken at this event by event organizers. If you do not wish for your individual image to be used in possible future promotional material, please inform the photo/videographer. Your request will be granted. (Realize, if you don't look good, we don't look good!)