16th Annual Tour de Grace, June 26 — Loop Route Again, Loads of Fun!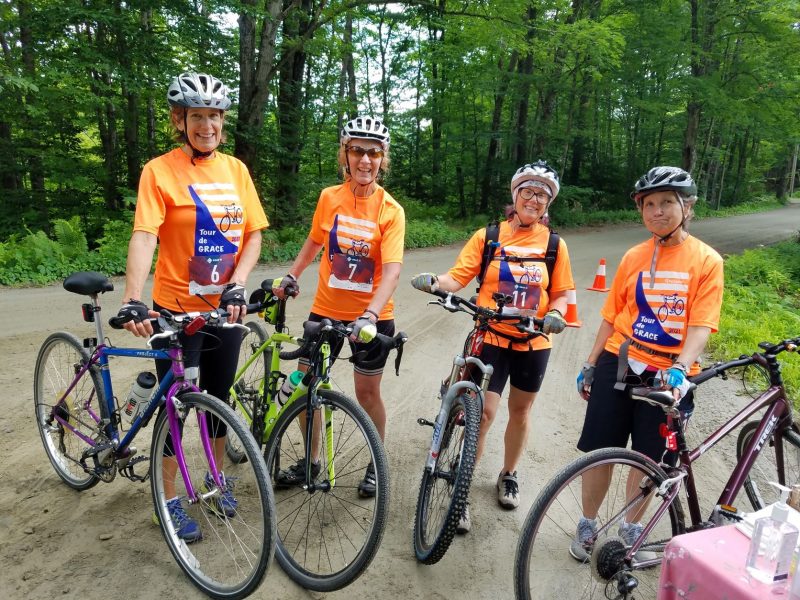 June 26, 2021
Grace Cottage's 16th Annual Tour de Grace bike ride, held on Saturday, June 26, took place on a sunny, warm (but not too hot!) day, and a wonderful time was had by all riders and volunteers.
Many of the 86 riders even got to see a bald eagle and its fledgling, in a nest adjacent to the route!
Our thanks to sponsors: Cota & Cota; Equipe Sport; Howard Printing, Inc.; People's United Bank; Solstice Trailside at Stratton; Three Mountain Inn; and West River Provisions.
Save the date of Saturday, June 25, 2022, when we hope to be able to safely return to our regular downhill route. Stratton Resort has generously agreed to once again donate the use of three buses to take riders back up the hill, so we'll keep our fingers, eyes, and toes
crossed that we'll be able to return to the original Tour de Grace route, 19 miles, "mostly" downhill.
Quotes from happy riders:
"This ride is AWESOME!"
~ Young rider, age 8, from South Newfane, VT
"This year's Tour de Grace was a fantastic event! I liked the trails so much that the next day I went back with our daughter, Cara. I guess one bright side of the pandemic is that I have "discovered" so many fun things to do outside, right in my own backyard. Also, so many volunteers with great enthusiasm. We really had fun, and enjoyed the dill pickles at the finish line!"
~ Dr. Moss Linder, Townshend, VT
"I wanted to thank everyone involved with organizing the Tour de Grace bicycle rally. We had a great time riding, as always. You folks did a splendid job, especially in light of the current pandemic. The alternate route was fine; we were glad that you could, and did, conduct the ride at all when so many other events have been cancelled. We'll see you next year!"
~ Tad Downing, Bennington, VT
Visit Grace Cottage's Facebook page to see the 2021 Tour de Grace photo album!
Save the date for next year's event: Saturday, June 25, 2022