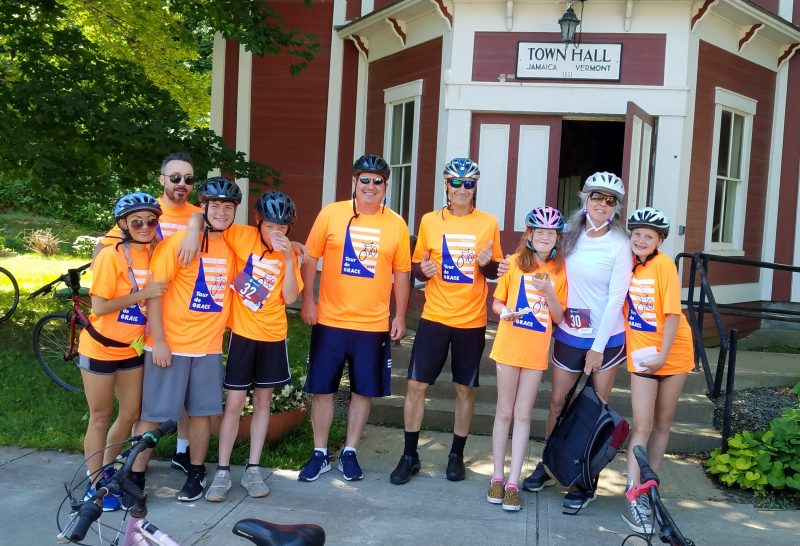 Saturday, June 25, 2022
It was a picture-perfect day for Grace Cottage Family Health & Hospital's 17th Annual Tour de Grace on Saturday, June 25, and 93 bicycle riders, ranging in age from 6 to 81, thoroughly enjoyed the 19-mile "mostly downhill" route from Stratton Mountain to Townshend.
We'd like to thank our Event Sponsors: Stratton Resort, Solstice at Stratton, Linda Bastian, Cota & Cota, C&S Wholesale Grocers, Equipe Sport; Howard Printing, Three Mountain Inn, West River Provisions, and Winot Works.
21 volunteers assisted riders at registration, at the finish line, and at various rest stops along the way. Many riders were treated to the sight of two baby bald eagles in their nest, and all enjoyed beautiful scenic vistas, including a ride through the Scott Covered Bridge.
We'd like to give a special shout-out to Trevor Hazelton who helped to carry bikes up the 58 stone steps at the Townshend Dam; and to Eric Emerson, Christine Hume, and KJ Johnston of Rescue, Inc., who followed along on their bicycles to make sure that everyone was safe.
Thanks to the generosity of sponsors and riders, $7,550 was raised this year!
Save the date to join us next year: Saturday, June 24, 2023!
Here's the link to the 2022 Photo album.