November 7 — 8, 2017
TAKE CHARGE of your own health, your security, and perhaps even your longevity at the Healthy Aging Conference, presented by Grace Cottage Family Health & Hospital, held at the historic Grafton Inn in Grafton, Vermont.
Take time for yourself in a beautiful and relaxed environment — to listen and learn from more than a dozen highly-respected professionals on matters of physical, mental and financial health.
While everyone knows they should eat right, exercise, make amends, and mind their wallets — we don't always do what is best for us. This conference is intended to give participants new reasons and techniques to go forward on a path of maximum health and happiness.
Registration is limited! To secure your place, sign up today! Registration is requested by October 23rd.
Conference Schedule
*Schedule is subject to change. All sessions are optional. Participants may sign up for a chair massage or Zero Balancing session in lieu of any one session at event day check-in.
Tuesday, November 7th
8:30        Continental breakfast
9:00        Welcome and Introductions – Healthy Breathing – Crystal Mansfield, Director of Rehabilitation, Wellness Initiatives, and the Community Health Team; Grace Cottage (GC)
9:15        KEYNOTE: Feeling Good Never Grows Old!  – Jesper Brickley, DO (GC)
10:00     Staying Active as We Age – The Benefits of Movement and Exercise – Ruth Fleming, Physical Therapist; Diane Bousquet, Occupational Therapist (GC)
11:00     The Power of Staying Connected in Community – Bill Monahan, RN, Community Health Team (GC)
12:00     LUNCH
1:00        Nutrition and Wellness – Liz Harrison, CCN, Community Health Team (GC)
2:00        Medication Interactions – Ken Van Cott, DPharm
3:00        Financial Refresher – Strategies, Planning, Successful Retirement!  – Mike Mandraccia, Richards Group
4:00        Day One ends
Wednesday, November 8th
8:30        Continental breakfast
9:00        KEYNOTE: The Psychology of Aging Well and the Power of Positive Thinking – Michael Gigante, PhD
10:00     Hospice/End of Life Issues and Blessings — Joanna Rueter, MSW, Brattleboro Area Hospice
11:00     Understanding Alzheimer's and Dementia: Creating Meaningful Connections— Pamela Bidler, VT Alzheimer's Association
12:00     LUNCH
1:00        Downsizing Home, Burdens, and the Freedom it Brings/Aging in Place – Mark Boutwell, Senior Solutions Council on Aging for Southern Vermont
2:00        Creativity and the Aging Brain — Caroline Chase, MS, Community Health Team (GC); Lydia Thomson, River Gallery
3:00        Spirituality as We Age – Jim Kowalski, St. John the Divine, NYC
4:00        Closing remarks, conference adjourns
 * Brief speaker bios can be viewed here.
Fees:
The cost of this conference is $90 per person per day and includes continental breakfast, lunch, all sessions and classes.
Registration: Requested by October 23rd.
For more information about the conference, or to register for one or both days, contact Andrea Seaton at 802-365-9109.
You may also register by printing and filling out this simple form and returning it with payment via US Mail.
* Once registered, you will receive more information via email as the event draws nearer. 
 About the Inn: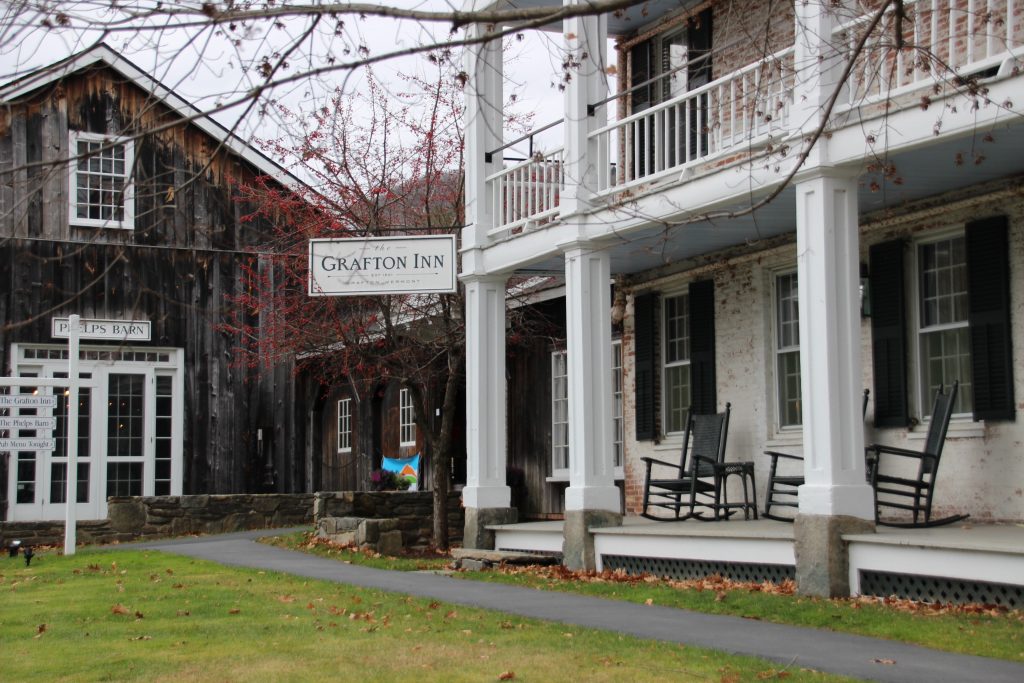 The Grafton Inn welcomes Conference participants to stay for the discounted room rate of $119/night. A farmer's breakfast is included in the fee. To book your stay, call 802-843-2248.
 For directions and more on the Inn, 
click here
.
Address: 92 Main Street, Grafton, VT 05146
The Conference will take place across the street from the Main Inn in the Homestead Conference Room. Parking is available on the left-hand side of the building (there will be signage.) To avoid steps, enter through the rear door of the building where there is a handicap lift.
---
Event Co-Sponsors