AUXILIARY HAPPENINGS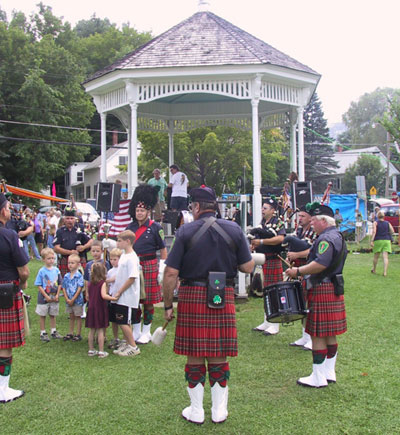 Members of the Westchester (New York) Firefighters Pipe and Drum Band invite children to join them for the end of their afternoon concert at Fair Day.
HOSPITAL FAIR DAY, 2002 - As of mid- September, the proceeds from this year's Fair Day are approaching a total of $65,000 (money from T-shirt sales, raffles, and advertising in our brochure often trickles in after the event). The success of this year's Fair is totally due to the many booth chairs, volunteers, and fairgoers who endured the hot weather. Fairgoers came from the valley, the hills, and from a great many other states, as did volunteers!
Various improvements added to the appearance and the efficiency of Fair Day. A colorful new tent covered the book booth, and another protected auction items from Friday evening's downpours. With the cooperation of the Townshend Congregational Church, electric outlets were installed on the front of the church to serve the auction tent, and these outlets will be available for use by the church when they use the Common. Central Vermont Public Service came through by providing power from one of its poles on Route 30, for use by the Food Booth. We extend our appreciation to the Church and CVPS for their help. Also, thanks to the Leland & Grey High School administrators and staff, who graciously allowed us to gather and sort books, clothes and toys in empty classrooms, and for their loaner of sound equipment and chairs. Finally, Fair Day wouldn't happen without the crews that helped set up, tear down, and clean the common after the Fair - grateful fairgoers and volunteers salute you all.

MEMBERSHIP DRIVE - The recent membership drive was a great success: over $12,000 has been received to date. Laura and William Lord of Grafton were the winners of the raffle drawing for the Millionaires' Weekend.
The Grace Cottage Hospital Auxiliary Annual Meeting will be at the Townshend Church on Thursday, October 17, 2002, at 7 p.m. An interesting program will accompany the final Fair report and election of officers. Everyone is welcome to attend!