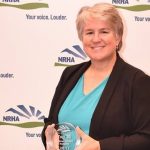 Grace Cottage Hospital recently received national recognition as a "Top 20 Critical Access Hospital (CAH) for Best Practice – Patient Satisfaction."
Chief Nursing Officer Lisa Eaton represented Grace Cottage at the awards ceremony Sept. 28 during the National Rural Health Association's (NRHA) CAH Conference in Kansas City, Mo.
Grace Cottage was chosen for this exclusive "Top 20" list out of all 1,339 CAH facilities throughout the U.S. It is the only CAH in the Northeast to receive this designation.
Read More...