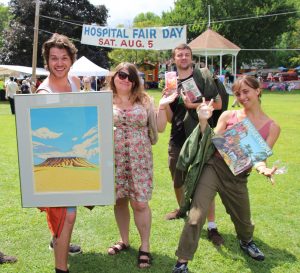 Reporter Harmony Birch's article on the 67th Annual Grace Cotttage Hospital Fair Day
WINDHAM COUNTY — The stormy weather didn't stop Windham County residents from enjoying two August traditions: Grace Cottage Fair Day and Rockingham Old Home Days. Locals from the Townshend and Rockingham areas marched their brightly colored umbrellas to the respective downtown areas, determined to have fun.
Grace Cottage Fair Day started in 1950, a year after the hospital opened, according to Andrea Seaton, director of Grace Cottage Foundation's Office of Community Relations. The fair is used every year to raise money for Grace Cottage Hospital's general operating budget. This year was more critical, however, because the money raised will be used to fund a new heating system to replace one that is old and "beyond repair," said Jacki Brown, the marketing administrator at Grace Cottage. The best option the hospital could find was $542,000, she said. The money is being raised through donations, grants and the fair.