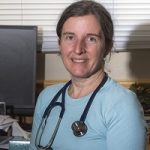 By Natalie Harding, PA-C, Grace Cottage Family Health
We waited so long for summer, and now it's time to get outside and go biking, hiking, get work done on the house or garden, or spend time on the beach. Maybe you earn your living working outdoors. Did you pack the sunscreen?
"Only mad dogs and Englishmen go out in the midday sun," says Rudyard Kipling in his poem "Gunga Din." There's wisdom in that. The welcome, warm light from the summer sun carries a risk — UVA and UVB radiation. The risk is there all year, but in the summer we tend to be outdoors longer, have more skin exposed, and the days are longer, extending the risk. 
Ultimately, UVA and UVB can damage the skin and cause skin cancer. Here's a mnemonic to help you remember the difference.
Read More...