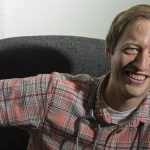 By Dr. Jesper Brickley, Grace Cottage Family Health
Fall is a time to reflect on transitions in life. In the words of Albert Camus, "autumn is a second spring, when every leaf is a flower." It is a time of transition and reflection. The measure of time bears little importance compared to what fills the time being measured. We pass through time like rays of light through crisp autumn trees. We are enriched by the process of aging and reflect that which we absorb and find meaning in.
Grace Cottage's Healthy Aging Conference, to be held Nov. 15-16 in Grafton, Vermont, will give us time to reflect on these ideas and to share a wealth of information about how to celebrate the accumulation of years and to age healthfully.
Read More...