Whether it's mesothelioma or leukemia, finding out that you have cancer can be devastating. In addition to chemotherapy and radiation, you have to eat a nutritious diet. A nutritious diet will not cure your cancer, but it will make the process a little easier. If you eat nutritious foods, you will have more energy, keep your immune system strong and maintain a healthy weight. You will also be able to tolerate mesothelioma treatment side effects better. Here are some tips for eating healthy while you have cancer.
Pick Healthy Foods
When you have cancer, you need to eat foods that are nutritious and filling. Eating healthy foods will boost your energy levels and make you feel a lot better. Make sure to include whole grains, vegetables, fruits and fish in your diet. Try to limit junk foods, such as chips, candy and cake, because they offer very little nutritional value.
Pay Attention to Food Safety
Cancer treatments can weaken your immune system, so it is crucial to avoid germs. One way you can avoid germs is to pay attention to food safety. For example, you should rinse your vegetables and fruits very well before eating them. You should also keep perishable foods in the refrigerator and always check expiration dates.
Eat When You Don't Have an Appetite
Cancer treatments can make you lose your appetite, but you have to force yourself to eat. If you do not get enough to eat, you will not feel strong and healthy. Instead of eating three big meals, eat smaller meals throughout the day. Another thing you can do is make your meals look more appealing by adding lemon slices, parsley and other garnishes to your plate.
Don't Take Supplements Without Talking to Your Doctor
Before you decide to take supplements to get the nutrients you need, talk to your doctor. Some supplements can affect cancer treatments. Tell your doctor about the supplements you want to take and ask him what he thinks.
Although a nutritious diet will not get rid of your cancer, it will make you feel a lot better. If you follow these tips, you will feel healthier and stronger.
Along with warmer weather and the promise of spring, March is also a month to celebrate nutrition and a healthy lifestyle. Each March, the Academy of Nutrition and Dietetics sponsors National Nutrition Month in an effort to get Americans of all ages to eat healthier and make better choices in diet and exercise.
The theme of National Nutrition month this year is "Eat Right, Your Way, Every Day." What does this mean? It means that we know that no two people are alike, and so they won't always eat alike, either. Good nutrition can be personalized and can fit into any lifestyle. By following the nutrition tips and guidelines below, you'll see that nutrition and health are only a few steps away.
1. Nothing Drastic
Though there are tons of information out there about healthy eating, the biggest thing to remember is to make small changes, not drastic ones. It's easier to stick to a new diet when the change is gradual – actually, it'll barely feel like anything is changing at all!
2. Everything in Moderation
It can help a new diet to not think of anything as "off-limits." Instead of cutting sugar and fat out completely, reduce your portions. Eating smaller is a lot easier than removing something entirely, and again, gradual change is much more manageable.
3. Go Raw
Raw fruits and vegetables contain far more vitamins, minerals, and beneficial enzymes than cooked or processed foods. To truly get the benefits from the foods you eat and achieve a healthy lifestyle, try them before they're cooked. A great place to start is at a local farmer's market or co-op, like the Brattleboro Farmer's Market.
4. Taste the Rainbow
No, not Skittles. If you eat a variety of different "colors" – red, orange, yellow, green – you'll find that any holes in your diet are filled easily. Also, try to reduce consumption of "white" foods, like white bread, white sugar, and other high-carb items. These have little nutritional benefit and contribute to weight gain.
5. Slow Down
It takes about 20 minutes for your body to tell your brain that you're full. If you eat quickly, it can be easy to stuff yourself too much before that message arrives, leading to that heavy, bloated feeling after a big meal. Slow down, chew thoroughly, and talk over dinner – your belly will thank you for it.
6. Don't Be a Pill
While you should take a daily multi-vitamin supplement, remember not to use it as a crutch. Good nutrition goes beyond taking a vitamin every day, and fruits, vegetables and other healthy foods are generally better for a healthy lifestyle. Remember, the vitamin pill is just to give you extra, not give you everything.
7. Get Outside
Healthy foods are only a part of a healthy lifestyle. Exercise and activity are key if you want to lose weight or be healthier overall. There are lots of activities that promote good mental health that are also physically beneficial. Take a walk outside, go skiing or skating, ride a bicycle – anything that gets your blood flowing and your body moving.
Of course, these tips are only the beginning of a healthier way of life. For more information, you can visit the Academy of Nutrition and Dietetics website, or you can always contact us here at Grace Cottage Hospital for advice.
Here at Grace Cottage Hospital, we know that staying active during winter can be a challenge, and it can be even harder to keep a positive state of mind throughout the season. With the short amount of daylight, cold weather and the frustration of being stuck inside, it can be tough to kick those cold-weather blues. Follow these winter wellness tips, to help keep your mind fit until spring rolls in.
One key to good mental health in the winter is to stay physically active. Any sort of activity that gets your body moving and your muscles working is also going to have mental benefits. Of coursethere are plenty of winter sports in Vermont, and skiing and snowboarding are perfect ways to get out and about, but any sort of physical activity will work. Consider joining a meditation, yoga or Zumba class – the group atmosphere and low-impact activity will help you stay both mentally and physically fit. We have a number of classes here at Grace Cottage, which you can see by taking a look at our events calendar.
Another good way to stay active with both your body and mind is simply to take regular walks outside every now and then. Now that the weather is growing slightly warmer, walking outside – either in the woods or just along your road – can be a simple and easy way of improving your physical activity and your mood, too. Set goals for yourself — walking a certain distance or staying out for a set amount of time. By accomplishing the goal, even if it's small, your mood improves and your mind feels more satisfied.
Even though the days feel much shorter in winter, you should try to get the same amount of sleep as you do during the sunnier parts of the year. It is natural to feel more fatigued during winter, and some experts recommend adding an extra 10 or 20 minutes to your normal sleep routine. However, adding extra hours to your sleep cycle isn't good for your body or mind, and too much sleep is a major contributing factor in seasonal depression.
Finally, the easiest way to stay mentally healthy during winter is to add light into your day as much as possible. The lack of natural sunlight is a big part of the winter blues, so do what you can to get as much daylight as possible. As we mentioned before, getting outside is the best way to accomplish this, but if you work in an office with windows, move your desk closer so thelight shines in, or keep the blinds open all day. If you get out of work after dark, try to squeeze in a short walk in the morning. Boosting your light levels will in turn boost your mood. You can even find specially-made "light boxes" that imitate natural sunlight in dark settings.
The key to staying mentally healthy in winter is to stay active and keep your routines strong. Don't let the winter blues get you down, and remember that spring is just around the corner. And if you have any other questions about winter and mental health, you can always contact our knowledgable hospital staff.
As we all know the weather in Vermont can change drastically at a moment's notice. With the weather quickly getting colder, it's important to keep cold weather safety in mind. Though it may seem innocuous, cold weather can be dangerous or even deadly for those caught off-guard. Here are a few simple safety tips from your Grace Cottage family to keep you out of harm's way during this, and any other, cold snap.
Home Safety
Make sure you have emergency supplies such as fresh water, extra food, and emergency supplies like a first aid kit, batteries, and a fire extinguisher.
If your home has gas, make sure you have a carbon monoxide monitor in place and that the batteries are working. If you feel lightheaded or nauseous, don't hesitate to call 911 and leave the house.
Learn to turn off your water valves in case a pipe bursts – and if you can, check the insulation around pipes to keep them from freezing at all.
Make a Family Emergency Plan – if you or another loved one is separated from others when a storm or cold snap hits, you need to be sure you have an established method of communication.
Remember that going outside should be limited to when its absolutely necessary – don't make any trips you don't have to.
Personal Safety
Limit exposure to the cold. In cases of extreme cold, don't go outside unless you must and never travel alone.
Wear several layers of clothing rather than one bulky layer – more layers insulate your skin better — and make sure to cover your head, hands, and other exposed areas. Also, wear wool, or other wicking materials, instead of cotton to help remove sweat and moisture, which can freeze on your skin and make you colder.
Stay physically active when outdoors to help your body produce more heat. However, avoid over exerting yourself to minimize sweating and prevent aggravating any existing respiratory condition, which can be compounded by the harsh cold air.
Pay attention to your own condition, and know the symptoms of frostbite and hypothermia.
The symptoms of frostbite include:
- feeling uncomfortably cold
- feeling tingling or aching in your extremities
- finding blisters or color changes in your skin
The symptoms of hypothermia include:
- feeling extreme shivering
- pain, fatigue or stiffness in your limbs
- failing or slurred speech
- poor coordination
Both conditions require immediate attention, and might need medical treatment.
Staying safe in the cold doesn't have to be complicated. Keep these safety tips in mind, and don't be afraid to ask one of our knowledge doctors or nurses for advice. Be smart, and be safe!
On October 24, Dr. Richard Meyer presented at the Grace Cottage Hospital Auxiliary Annual Meeting to discuss future improvements to the Emergency Medicine support offered in at the hospital. It is critical that the hospital's emergency department be equipped to handle a growing volume of patients to ensure no one has to wait to receive the care they require. As our emergency department director and chief medical officer here at the hospital, Dr. Meyer sees firsthand what kind challenges the emergency room staff, as well as the facility itself, are facing and where changes are necessary in order to maintain Grace Cottage's mission of providing patient care second to none.
Watch Dr. Meyer's presentation in full, below, to learn about the exciting new expansions and changes that will soon be coming to the Grace Cottage Hospital Emergency Department.
Brattleboro Town Manager Barbara Sondag has issued the following, written on Thursday evening, October 25:
"First responders and Town officials are closely tracking Hurricane Sandy.  The most current forecast indicates that the Brattleboro area could be impacted by Sandy sometime between Monday and Wednesday (October 29 – 31).  The forecast indicates that heavy rains and high wind speeds are possible.  Concerns include power outages, flooding, flying debris, downed trees, road closures and bridge failures.
It is not safe to assume this storm will act in a similar fashion to Tropical Storm Irene.
Sandy could have higher winds than we experienced with Irene, making power outages more possible and increasing the risk of flying debris.  In addition our current water table is high increasing the risk that high winds could more easily uproot trees, causing road closures or power outages.  In short everyone should prepare for this storm – not just those who were impacted by TS Irene.
The Town is working to secure sandbags and we hope to have more information on their availability sometime on Friday.  I have released the attached PSA and will continue to prepare and distribute PSAs as we receive new or more specific information.
I would advise anyone who suffered damage from Irene and made repairs to document those repairs (photos of present conditions especially) so there is no question what storm caused what damage.
The reason is that if there is future damage, these photos will serve to clearly delineate damage from Irene and damage from Sandy for insurance or FEMA claim purposes.
We will also be updating the Town website – www.Brattleboro.org — and utilizing the Brattleboro Emergency Notification System (BENS) as needed."
Barb has asked that the Chamber, along with Building a Better Brattleboro, Brattleboro Development Credit Corporation and the West Brattleboro Association alert their constituencies — business owners, organizations and citizens — of the threat Sandy may pose to our community.
Please pass this information along to your employees and to those in the community who might not have as direct access to the latest information as others of us.
Thank you!
Grace Cottage Hospital has been named one of the most advanced hospitals in the world for its use of comprehensive Electronic Medical Records (EMR), a key factor in providing the safest, highest-quality patient care possible.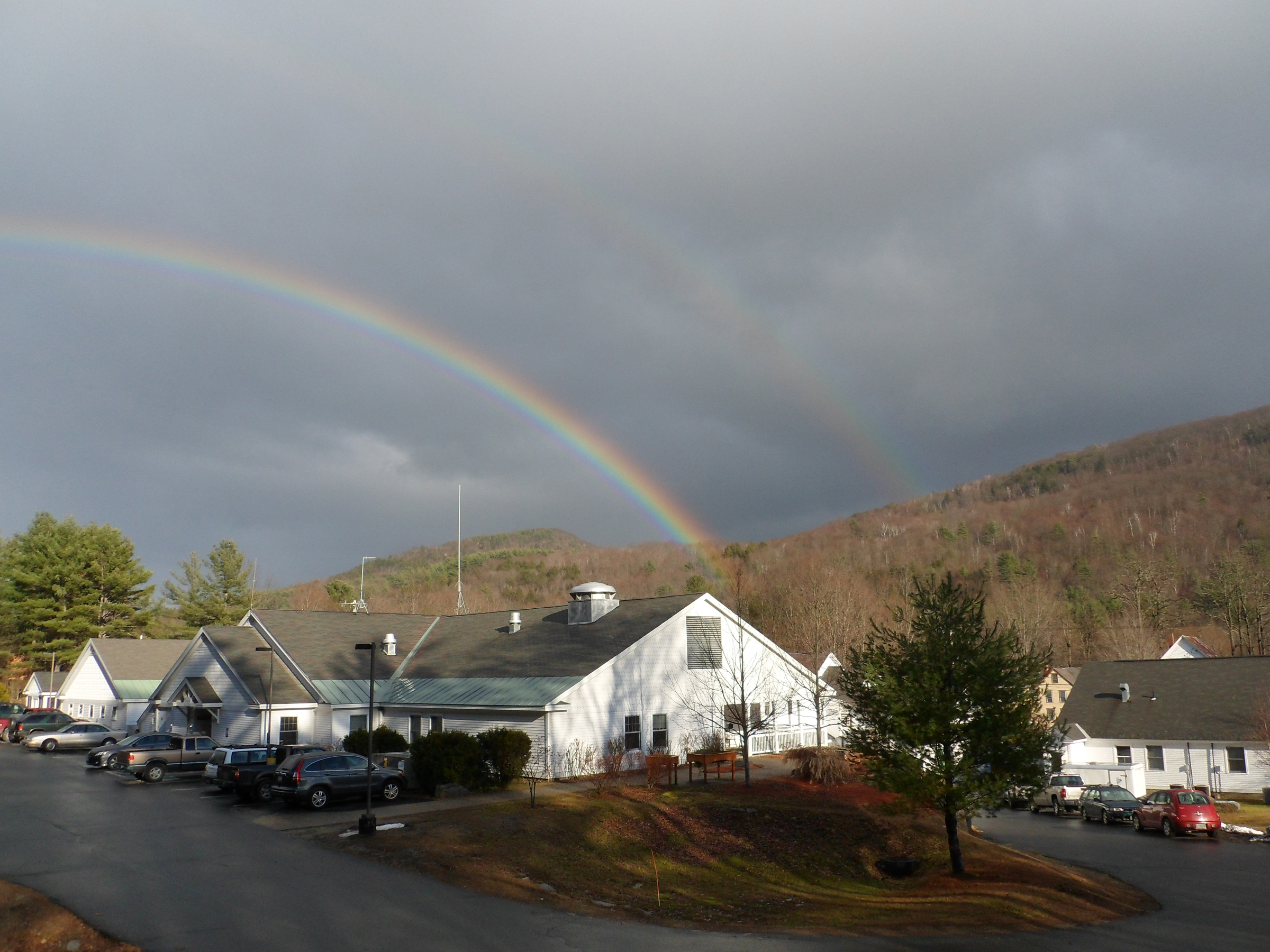 According to HIMSS Analytics, Grace Cottage Hospital is currently at "Stage 6" for adoption of EMR. Only 397 of more than 5,300 hospitals in the United States have achieved this status; Fletcher Allen Healthcare Center in Burlington is the only other Vermont hospital that has reached Stage 6. HIMSS Analytics, a not-for-profit subsidiary of the Healthcare Information and Management Systems Society (HIMSS) scores hospitals based on their progress in completing eight stages (0-7) towards creating paperless patient records.
"Becoming the second hospital in Vermont to earn this recognition is a significant achievement," said Grace Cottage Hospital CEO Mick Brant. "As the smallest hospital in Vermont, Grace Cottage is committed to giving our health care providers the most advanced tools available in order to provide our patients with the best possible care."
Grace Cottage is well known for having the highest overall patient satisfaction scores in the state of Vermont and, in partnership with Cerner Corporation, has spent the past two years preparing for and implementing a facility-wide Electronic Medical Record system, a $2.5 million investment that is funded by the American Recovery and Reinvestment Act.
"The entire staff has worked very hard to make this happen," Brant adds. "Achieving Stage 6 in HIMSS Analytics is a major milestone in the 64-year history of this hospital, so all of our employees deserve to be very proud of what they've accomplished for our patients. Now, we'll work towards Stage 7."
More information about Grace Cottage's HIMSS Analytics Stage 6 designation is available at http://www.gracecottage.org.
ABOUT GRACE COTTAGE:
Founded in 1949, Grace Cottage Hospital is a Critical Access Hospital offering a variety of health care services, including: a 19-bed hospital with a 24/7 emergency department; an imaging department with digital X-ray, CT scanner, bone densitometer, and ultrasound; a full-service lab; a rehab department with physical, occupational, and speech therapy services for inpatient and outpatient treatment; an outpatient rural health clinic with family practice doctors and a mental health department; a community wellness center hosting a variety of classes; and a full-service pharmacy open to the public. http://www.gracecottage.org
ABOUT HIMSS:
HIMSS is a cause-based, not-for-profit organization exclusively focused on providing global leadership for the optimal use of information technology (IT) and management systems for the betterment of healthcare. Founded 50 years ago, HIMSS and its related organizations are headquartered in Chicago with additional offices in the United States, Europe and Asia. HIMSS represents more than 38,000 individual members, of which more than two thirds work in healthcare provider, governmental and not-for-profit organizations. HIMSS also includes over 540 corporate members and more than 120 not-for-profit organizations that share our mission of transforming healthcare through the effective use of information technology and management systems. HIMSS frames and leads healthcare practices and public policy through its content expertise, professional development, research initiatives, and media vehicles designed to promote information and management systems' contributions to improving the quality, safety, access, and cost-effectiveness of patient care. To learn more about HIMSS and to find out how to join us and our members in advancing our cause, please visit our website at http://www.himss.org.
On behalf of the Grace Cottage Hospital Rehabilitation Department, I would like to thank the staff, community members and establishments who helped make this year's 14th Annual Physical Therapy Month Poker Walk such a big success. This year over 100 walkers/runners, completed the 2-mile course on Wednesday, October 10, despite the cold and rainy weather.
I would like to thank the following donors for their generous contributions to our raffle: Grace Cottage Hospital, Grace Cottage Community Wellness Center, Grace Cottage Foundation, Messenger Valley Pharmacy, Patty Winter, Siobhan Young, Flo Burt, Jim Heal, Archer Mayor, Wayne's Auto and Jeep, Newfane Greenhouse, and Mary Meyer.
A big thanks also to Snow Goose Inn of West Dover, VT, for again contributing our "Grand Prize," a one-night stay for two, which went to the community member with the best poker hand. Thanks also to the Last Chair Restaurant of West Dover, for contributing the employee "Grand Prize," a voucher for dinner for two.
We were well hydrated and fueled with water and granola bars donated by C & S Wholesale Grocers, who was also our event lead sponsor, thanks to a generous financial donation. Thanks so much.
This year we were once again fortunate to have the Windham County Sheriff's Department and the Community Emergency Response Team (CERT), who did an excellent job with traffic control. We really appreciate it. Also, a big thanks to Grace Cottage's volunteers, the "Grace Greeters," who cheerfully helped handing out cards at the stations despite the weather.
Once again, thank you, Tammy Claussen and Tom Russell, for bringing your students out. Leland and Gray is a huge part of the event.
Great job everyone! See you next year for the 15th Annual Physical Therapy Month Poker Walk.
Sincerely,
Sindy Hassig
Grace Cottage Hospital Physical Therapist
Life is about being happy and healthy. Here at Grace Cottage Hospital it's our job to help encourage patients, friends and the community to practice wellness to be able to enjoy life to the fullest. It's also important to have fun. That's why we're teaming up with Brattleboro Memorial Hospital and the Brattleboro Retreat to present the first-ever Wellness in Windham Health Festival on Saturday, September 22, 2012.
From 11:00am to 2pm, the Brattleboro Retreat lawn will be transformed into an interactive festival ground, all in the name of wellness. The event is free, family-friendly and promises to include lots of activities for all ages, many surprises and some great entertainment. The Wellness in Windham Health Festival will give you access to many different sources of information so that you and your loved ones can lead healthier, more active lives.
Kicking off this year's Wellness in Windham Health Festival is the Fun Trail Run on the Retreat Trails on Saturday morning at 10:00am. This activity is free and open to the public. Everyone who enjoys a fun, relaxed run through the woods should join us. The trail run will be approximately 1.5 to 2 miles and runners will have the option of being timed. Register for the Fun Trail Run between 9:15-9:45am in the Front lawn of the Brattleboro Retreat, 1 Anna Marsh Lane, Brattleboro, Vermont.
After the trail, visit exciting and interactive exhibits to visit, snack on healthy food concessions and enjoy a host of activities focused on fitness, stress management and mindfulness practices. There will even be live entertainment including a performance by a local belly dancing troupe. What could be better? How about free parking, free admission, prizes, giveaways and information about some key ways to improve your health? We're just getting warmed up, but to find out about everything the Health Festival has to offer, you'll just have to be there. So mark your calendars for Saturday, September 22 and join us for a great day of fun, which, after all, is good for your health.
For more information about the Wellness in Windham Health Festival, visit www.wellnessinwindham.org
Every year, hundreds, even thousands of people turn out for the annual Grace Cottage Hospital Fair Day on the Townshend Common. It's a great local tradition and a wonderful way for families, neighbors and even complete strangers to come together and have fun, while supporting our small country hospital. In an effort to keep the crowds coming back year after year, we try to offer fun activities and events that will draw audiences from near and far.
Fair Day organizer and Auxiliary President Stan Holt had this to say about this year's Fair Day action:
"By about the tenth time that Deputy Sergeant George Badgley of the Windham County Sheriff's Department went into the water, we knew the Celebrity Dunk was a big success. It was a new event at this year's Grace Cottage Hospital Fair Day. Mick Brant, Grace Cottage CEO, and Pharmacist Jim Heal also took the plunge, multiple times. We praise them for being good sports and helping to raise money for a great cause. Not to mention, it must have felt refreshing.
Other volunteers staffing the booths, parking cars and fetching items for the auction weren't as fortunate. They had to bear the heat and humidity without relief, but their endurance paid off and Fair Day raised over $70,000! Kit Martin and Art Monette performed their usual magic in the auction tent raising over $35,000. We salute the hundreds of volunteers who lent a hand throughout the day – we couldn't have done it without you. Also, thanks to the Auxiliary Committee, who spent hours preparing the Fair, and to the hospital maintenance staff that made it all happen.
Congratulations to the winners of the mega raffle: $1,000 to Michelle Flynn of Newfane; a weekend in Maine won by Tim Kenney of Bozrah, CT, a handmade quilt by Christine Cathcart, won by Susan Fiske of Jamaica, and the Mary Meyer teddy bear, won by a five-year-old girl in Decatur, GA (her mother plans to surprise her when the big box arrives in the mail!).
Thanks again to everyone who came out and helped make this year such a big success. Have a great winter and we'll see you at Fair Day next year, Saturday, August 3, 2013!"